Ditto Blog
Interview: The Atlas Of Tears
December 16, 2014
Lee Bullock AKA The Atlas Of Tears has inspired all of us here at Ditto Music with his story and musical talent.
We first met Lee in our Customer Support section where we were helping him to get his music online. One day he told us a little about himself and we just needed his story to be heard. But instead of hearing it from us, we decided to interview the man himself to get an insight into his life and music.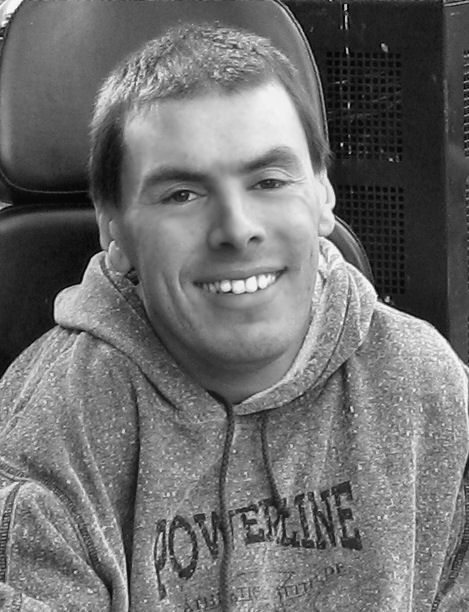 Hi Lee! Firstly, please tell us a little about yourself…
I am a musician who cannot sing and cannot play any instrument. I have always been a creative soul but the only way I can create anything is by speaking because at the age of 5 I was hit by a car which resulted in a spinal cord injury. I have been paralysed from the neck down for over 3 decades. It's a long time to be sitting down :-). I have the spinal cord injury but after sitting down for 30 years and not moving around; the physical body also changes shape and does all these weird things to compensate for that lack of movement. I was born and grew up in Hobart and I wouldn't want to live anywhere else long-term, Hobart is such a beautiful, peaceful and safe place. I have 3 main passions in life; music, movies, and AFL! Even though music has top billing currently, entering the film industry as a screenwriter and director was all I could think about for many years. Even though I cannot touch my nose, I am extremely ambitious and driven.

You certainly are! Is there anyone or anything that inspired you to start creating music?
My childhood and adolescence always had a musical aura; whether that be my mother always having music playing (Bruce Springsteen, Rolling Stones, David Bowie) or having actual musicians living in my house. At the age of 12 an old family friend used to put me over his shoulder and take me to his band practice. That was the beginning of my musical ambitions. At age 16 I began learning the harmonica but due to my extremely low breathing capacity, I gave it away. I studied music through high school and college but I was always the odd one out. What do you do with a wheelchair-bound kid who cannot play anything? I struggled with my music teachers and I did not do very well in music at all. In my 2nd year at college I found a talent for writing, I began an influx of poetry and after about 5 years my poetry morphed into lyrics. Once again I fell in love with music and once another friend created 4 acoustic demos for my lyrics, I was hooked. Studying screenwriting at that time, I quickly switched my career ambitions to music. We created about 20 demos over a couple of years before I found myself with a computer program that allowed me to compose my own music. It was freedom! I have been composing my own music and working with singers for the last 6 years. Always happy to work with people! It was then when The Atlas of Tears was born.

How about your musical inspirations?
Apart from being brought up listening to great music from great artists, I believe I found my own inspirations during the mid to late 90s. I fell in love with the music of Elliot Smith and then later Ryan Adams and Iron and Wine. Also Jeff Buckley. I have many others but they are my big four. My musical niche is acoustic based, whether it's indie or blues or pop, the first instrument I reach for when composing music is an acoustic guitar. I also love piano and depending on whom I am collaborating with, most of my compositions begin with one of those 2 instruments. I am inspired by artists who continue to release music, Ryan Adams for example, does that genius ever stop releasing new music? For a number of years I just sat back recording demo after demo after demo and it was only just recently with the help of Ditto that I chose to make a start outside of my tiny home studio; I finally made a musical release, a 6 track EP called Start Point.

How does your physical situation impact on your creativity?
Due to my severe physical disability I am unable to care for myself so I need a team of carers basically 24 hours every day. They do everything for me, showering, feeding, grooming, toileting … everything! I have extremely limited movements but I am able to use my mouse, drive my electric wheelchair as well as using voice dictation to work my computer. That is how I write. That is how I create. That is how I make music! Up until that point in the day when I am showered and in my wheelchair, I am at the mercy of whoever is around me. I like to use the analogy that I live my life in a full body straitjacket. To me, that sums it up in a nutshell. Even though my physical life is difficult, I am happy. I have always been a dreamer and it is always my ambition to achieve greatness and become better and better in anything I can.

So I guess this would also affect your recording process? Tell us a little about that…
I absolutely love composing my own music and then putting lyrics to that music. I find nothing more satisfying, not just my music but also anybody's music. I love using words and creating stories or messages for people. Music has immense power and if you have wonderful lyrics to go with great music then I believe you have a powerful message that can be heard by millions of people. That is what I am aiming for. My recording process is creating music first, and then putting lyrics to it before then finding someone to collaborate vocally in order to bring that song to life. Then we record a demo. I actually love to sing my own songs but as my disability prevents me from breathing properly, my singing is simply sensational (NOT!). Still, I sing my songs to whom I am collaborating with so that they understand how I want it sung.

How has technology, the Internet and digital distribution, helped you to create your music and get it out there?
Without the technology that we have today, I'm not sure where I would be. I cannot do anything without today's technology. I am 100% reliant on voice dictation to create anything. I had to give up typing (with one knuckle) about 6 years ago because it was becoming slower and slower with more mistakes. Voice dictation was a brand-new world for me that gave me freedom and lots of speed. Also without the technology of a music program, I most likely would not be able to create music in any form. Without that music program I could not call myself a songwriter. I would only be a lyricist. Ditto Music has given me the opportunity to get my music out there, around the world. Without Ditto and other online services that technology gives us, I would not have fans from Bulgaria to Mexico to Iceland and anywhere in the world; online services such as Ditto easily open up our music up to the world!
You can pick up the album 'Start Point' from iTunes, Amazon and Google Play, stream it from Spotify and rdio, or like him on Facebook.